Isn't it funny how a song can transport us back in time?
The other day I was driving home when "Kiss Me" by Sixpence None the Richer came on the radio. Immediately I was back in high school.
When I got home, I asked the people on my Facebook page to name the songs that remind them of high school.
The answers were varied of course, but despite our age differences, most of us are moms. Which got me thinking…
What if the songs that were popular when I was in high school were rewritten with moms in mind?
I dug through my memory to think of some of the songs that played a lot in the late '90s, then changed the lyrics to speak to the mom life. I think the new words are ones that any mom can relate to.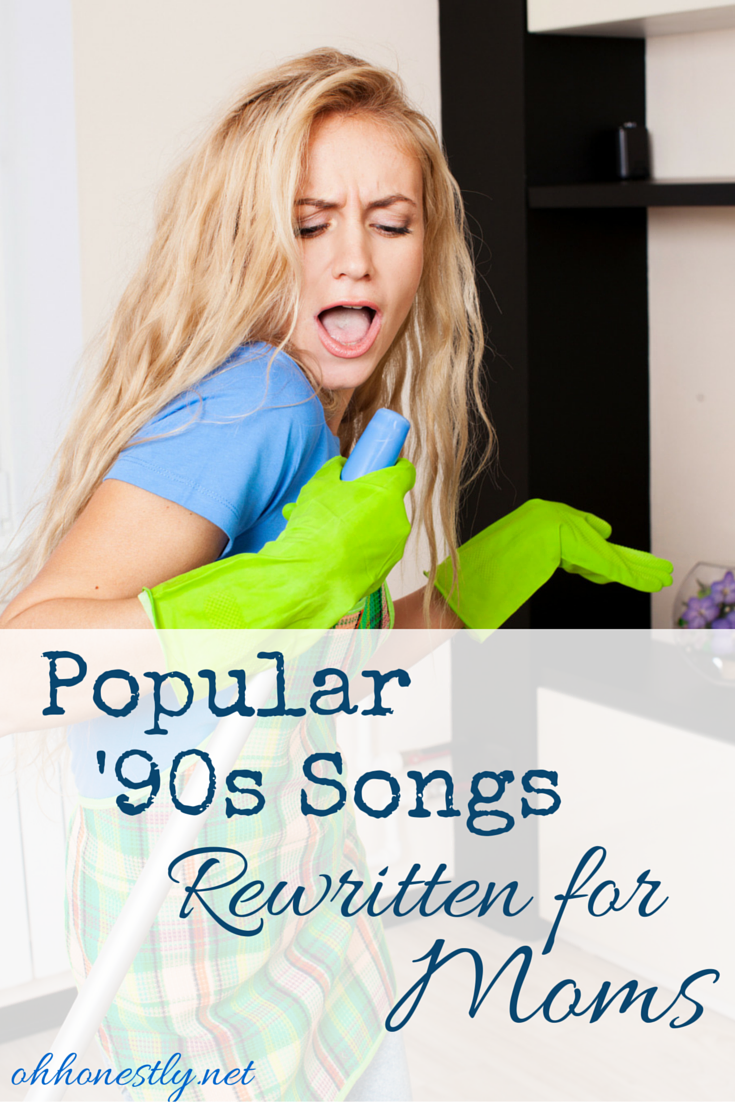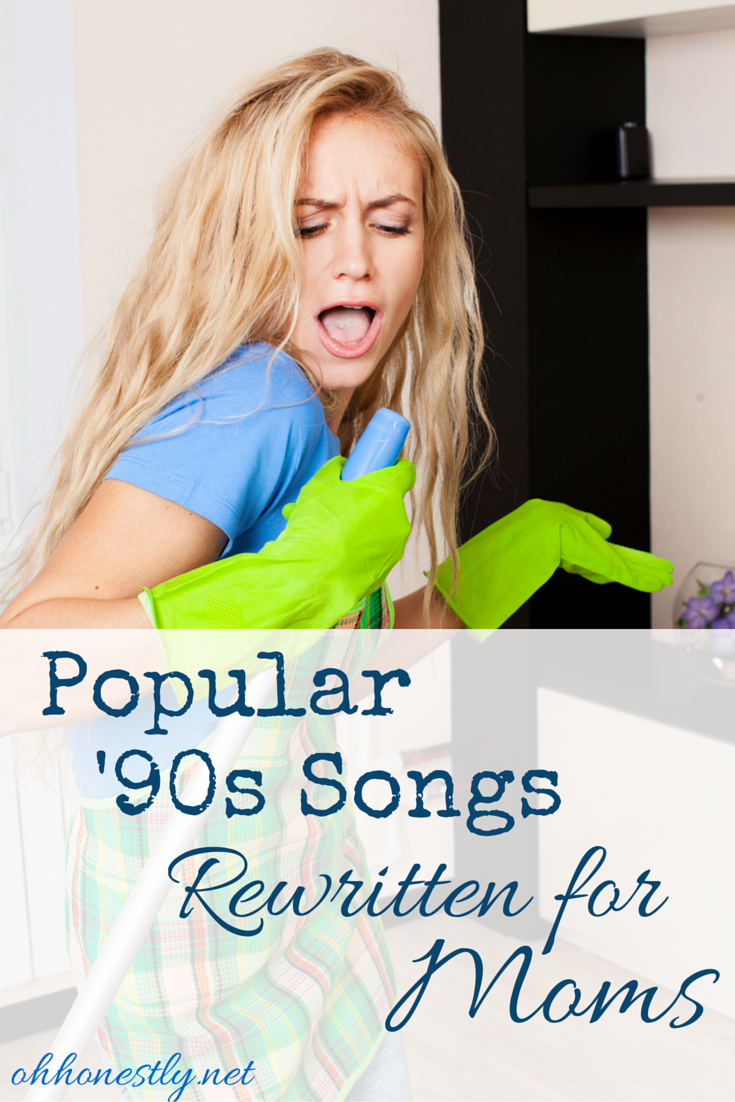 Popular '90s Songs Rewritten for Moms
"Always Be My Baby"- Mariah Carey (1995)
We were as one babe,
for 9 months at a time.
And it seemed everlasting
You would always be inside.
Now you wanna be free
It's about dang time.
'Cause I'm done being pregnant
I'm so uncomfortable I could cry.
"Tubthumping"- Chumbawamba (1997)
He wants a milky drink. He wants a water drink.
He needs to pee again, then use the bathroom sink.
He wants a song that I sang to him a week ago.
He wants a song that I sang to him a year ago.
(Oh, go to sleep. Go to sleep. GO TO SLEEP!!!)
My kid wakes up. I put him back in bed.
I'm never gonna sleep again.
My kid wakes up. I put him back in bed.
I'm never gonna sleep again.
"One Headlight"- Wallflowers (1996)
So long ago I don't remember when,
That's when I could leave home with just a purse.
Now it takes at least two hours to pack up all our junk.
We need a car with a bigger trunk.
"No Scrubs"- TLC (1999)
I don't wanna do bathrooms (no)
Not the kitchen too (no)
And I really hate laundry (no)
Why do we have all these rooms?
I don't want to scrub.
I scrub all day long and it never seems that clean.
Washing all the floors and rooms
of this messy house,
Trying to get it clean.
"Baby One More Time"- Britney Spears (1999)
"Well all this noise is killing me,
And I, I must confess, I want to scream.
When it's this noisy, I lose my mind.
All of you shut up, before I start to cry."
"All Star"- Smash Mouth (1999)
Well the years start coming and they don't stop coming.
The kids just get bigger and I can't stop bumming.
Soon they'll be grown and I'll be so sad,
But then I'll have grand kids. It'll be so rad.
"Spiderwebs"- No Doubt (1995)
Sorry I'm not home right now,
I'm walking through my favorite store.
So come to Target
and you'll find me there.
Dollar Spot and Starbucks,
So come to Target
and you'll find me there!
"My Name Is"- Eminem (1999)
Hi, my name is… what?
Your name is… who?
His name is…
I've got Mom Brain.
"I Don't Want to Miss a Thing"- Aerosmith (1998)
I could stay awake just to hear you breathing
Watch you smile while you are sleeping
While you're far away and dreaming
(Well look at that… I didn't have to change those lyrics!)
Your turn! Rewrite a song and post it in the comments!!