Disclosure: I've used affiliate links to share the artists' music (well, except Journey. Apparently Target is too good for Journey, but not too good for ABBA…). I don't think anyone buys CDs anymore, but if you decide you can't live one more day without Shania Twain's greatest hits, I'd really appreciate it if you use my link. Thanks!
You're on stage. The lights are low. Suddenly, a spotlight shines down on you and a murmur goes through the crowd as the first chords of a familiar song begin to play.  You raise the mic to your mouth, wait for the words to appear on the screen, and become the rock star you always knew you were meant to be.
That's right, folks. It's karaoke. Everyone's chance to show off their (lack of) talent by singing their favorite songs. In public. To a bunch of friends and strangers. Who will simultaneously laugh at and sing along with whoever's up on stage.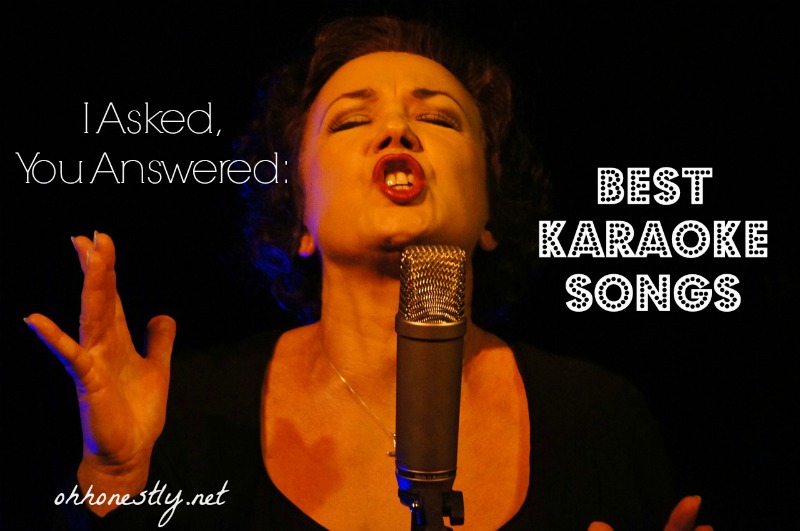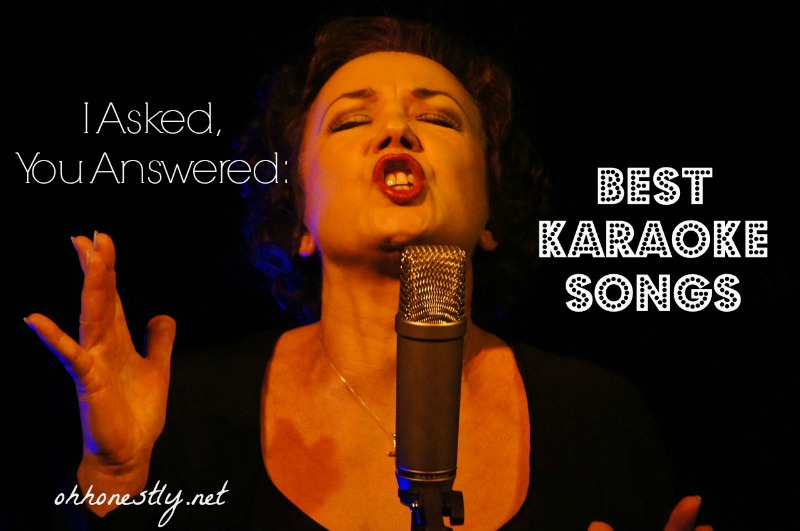 I Asked, You Answered: Best Karaoke Songs
This week I asked my email subscribers:
What song would you choose to sing if you were at a karaoke bar?
"I've had many a run at the karaoke night at the bar when I was younger and had no kids. It was always a group sing-along of 'Don't Stop Believing' from Journey or 'Piece of My Heart' from Janis Joplin." –Renee C.
"I've only been in a karaoke bar once but I would love to do it again. I think my song would be from ABBA 'Thank you for the music'! This song can make you the star of the night or make you feel really embarrassed! There are some pretty high notes in it! I would need a Vodka-Coke for sure to even start singing…..or two :)" -Barbara A.
" 'Man! I Feel Like a Woman' – Shania Twain." -Jackie B.
"My go-to karaoke song is 'Born To Be Wild' [Steppenwolf]. I'm not sure how it started, but it goes back a looooong time and usually includes some stand up comedy!!" -Carolyn D.
What song would you sing?
And remember, your answers to I Asked, You Answered can only be featured on the blog if you sign up for my newsletter. It's quick, it's painless, and I'm 1,000,000% against sending you anything spammy or boring.