Below: If you don't foster, but want to help foster families, these five practical ideas are a great place to start.
Have you ever seen one of those reality shows where a woman goes to the emergency room with abdominal pain only to be told when she gets there that she's in labor with a child she didn't even know she was expecting? That's something like how I imagine it must be when a family gets a call asking them to pick up a foster child in an hour.
Certainly there are differences: Foster families have prepared for the possibility of bringing children into their homes and the foster mother has no physical recovery to deal with, but the reality of the two situations is very similar. One moment life is moving along as normal and the next, everything changes drastically.
May is National Foster Care Month and in honor of the families who selflessly give of their time, resources, and love to children in need, I am writing a two part series on foster care. The first dealt with five misconceptions about foster care.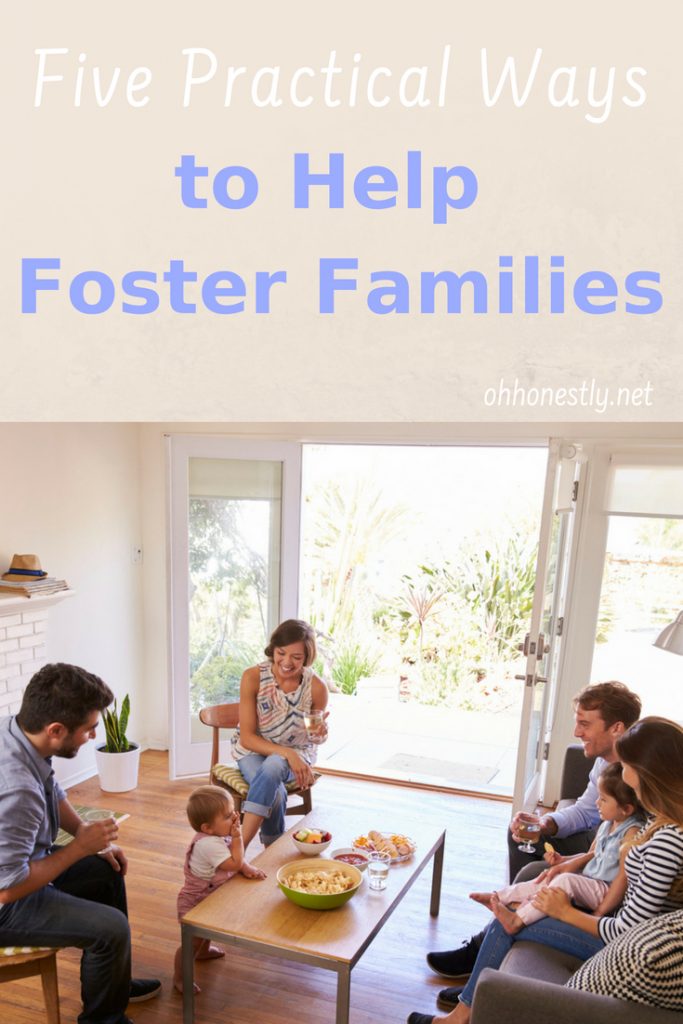 5 Ways Non-Foster Families Can Help Foster Families
Today I want to speak directly to families who don't do foster care, but would like to help those who do. Foster care is a big commitment and one that isn't right for everyone, but that doesn't mean that everyone can't or shouldn't be involved in some way. Chances are, most foster families won't ask for help, but that doesn't mean they don't need it.
There are many ways to help. Here are five.
1. Think about what you'd do if they'd just had a baby
Do you remember what the first few weeks were like after you had your baby? Your whole world was rocked. You were tired and overwhelmed. If you already had children, there was an adjustment period and moments of jealousy. Routine housework fell by the wayside. Making dinner seemed like a monumental task.
Guess what? Just because a foster mother doesn't go through childbirth doesn't mean that the first few weeks for a foster family are any different, regardless of the age of the child they bring into their home. They could use a meal that someone else made or an offer to stop by and help with whatever they need to catch up on. If it's something you would do when a family had a new baby, you can bet it's something a foster family would appreciate.
2. Offer items they might need
Like I said in the intro, many times a foster family is only given an hour's notice before they need to pick up their foster child and they probably don't have anything that they'll need for the days and weeks to come. The child usually doesn't come with much, if anything, in the way of possessions either, which leaves foster families scrambling for the things they need.
If you have gently used children's clothing, consider offering it to a foster family. Many times when a child leaves their care, they will send not only the current sized clothing, but also the next few sizes that they've collected along with the child, leaving them without anything for the next child in their care. The same goes for toys, books, and other supplies.
3. Offer to babysit
Depending on the regulations in the state you live, you may or may not be able to babysit a foster child. However, if the foster family also has biological or adopted children, it can be a huge relief to them to have someone they can count on for babysitting.
Parental visitation meetings usually take place multiple times per week which can be draining, especially if other children have to go along. There are also doctor's visits (lots of them if the child is an infant!), meetings, and trainings to attend.
Simply knowing that their other children are having one on one time with family or friends can take a load off a foster parent's mind and give them a much needed break.
4. Consider becoming a respite worker
If you're not able to make the commitment to full time foster care, but wish to help in a larger way, consider becoming a respite worker. These families take foster children short term (possibly for a week or weekend) to give a foster family a little breather, to enable them to take a family vacation they otherwise would have to cancel, or other similar situations.
5. ASK what you can do!
Just because a foster family looks like they're doing okay doesn't mean they don't need anything. Ask how you can help and really listen to what they tell you. Maybe they have a tangible need or maybe they just need someone to talk to, but you'll never know unless you ask! Then make sure you follow through and help in whatever capacity you can that matches their need.
 Bonus:
If you aren't able to help in any of the five ways discussed here or if you don't know any foster families, there may still be something you can do. If you pray, add foster families to your list. One foster mom told me that simply knowing people are praying for them, for the foster children in their care, and for the biological families is both comforting and encouraging.
So will you take the next step and help a family who might need it? Speaking from personal experience, I am certain you won't regret it!
If it weren't for the help of several foster families, I would never have been able to write this series. A big Thank You to Amanda Bassett, Carrie White, and Meghan Walbert for sharing their invaluable experience. 
For a more personal look at foster care, I encourage you to check out Meghan's blog, Phase Three of Life, as well as her Foster Parent Diary series in The New York Times (it's really reeeeaally good). 
Know of any other ways to help? Share your ideas on my Facebook page.