Below: Go on one of these fun mother daughter trips to spend some quality time with the special girl(s) in your life.
It was November and that meant one thing.
Actually it meant a lot of things: Winter was beginning, Thanksgiving was right around the corner, Christmas would follow soon after that…
But for my mom, my three sisters, and me, it meant something else. Every year, before the hectic holiday season began, we'd gather together and go away for a fun mother daughter(s) trip.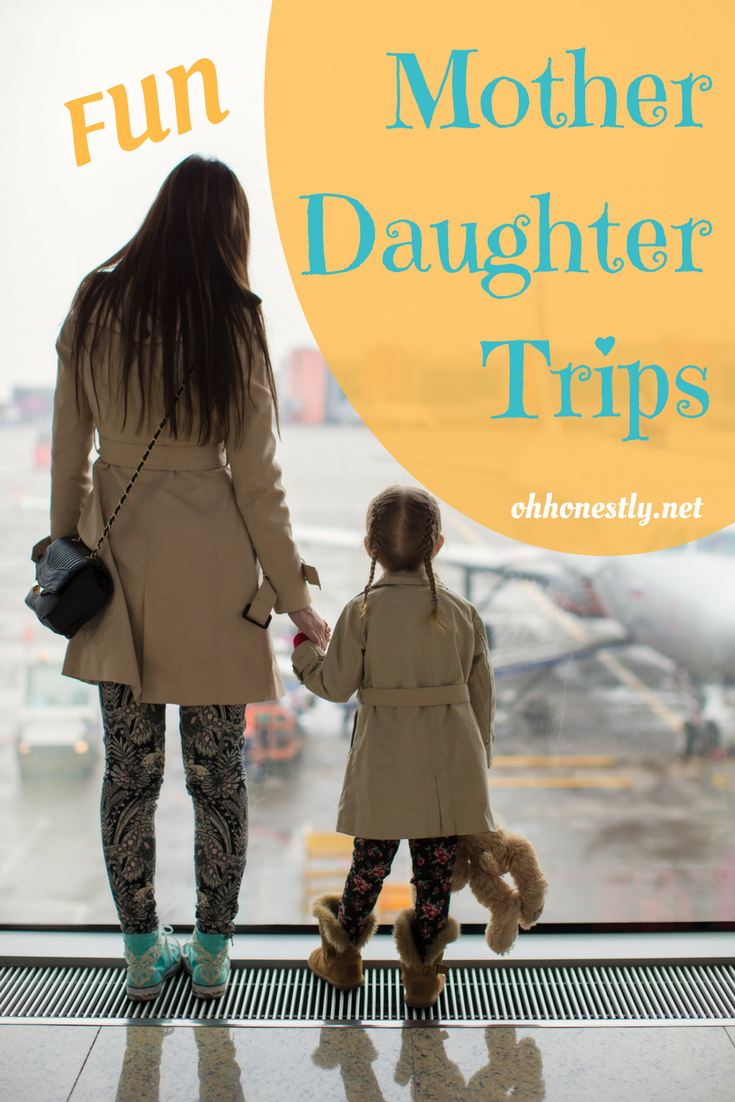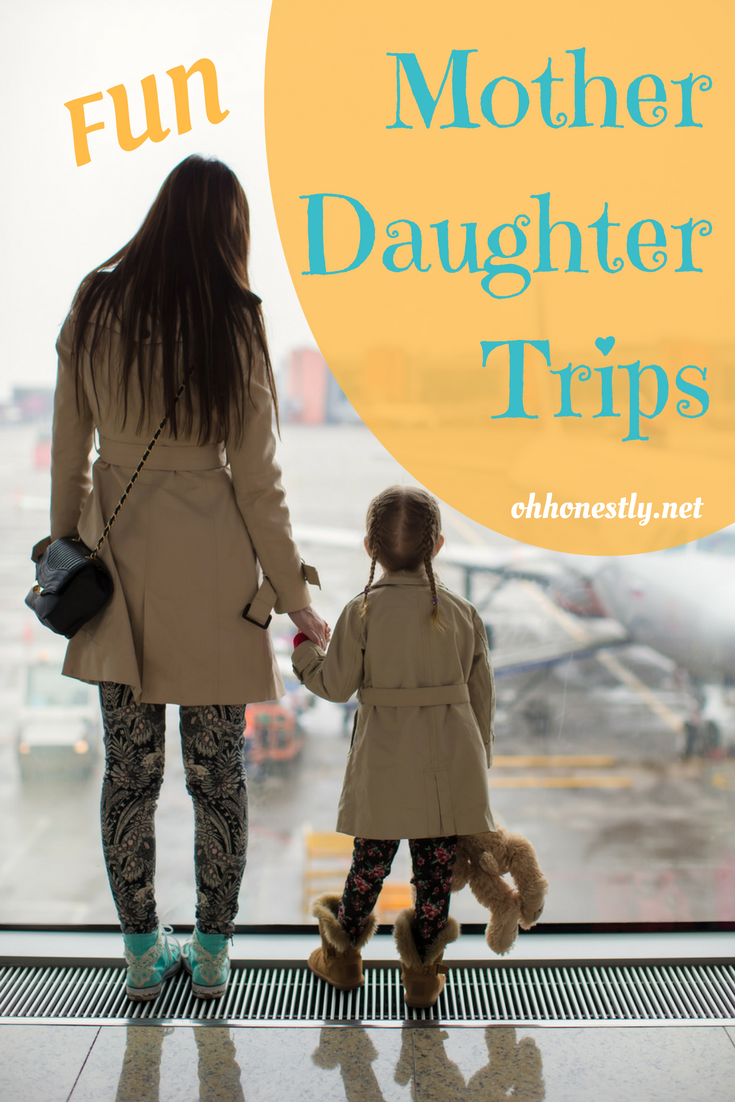 We left the kids with our husbands for the weekend, drove a couple of hours south, and spent a girls' weekend shopping the outlets, eating dinner without having to cook or clean, and best of all, laughing.
We usually each had a long Christmas list in hand, but it didn't matter if we crossed every item off our list or only one or two; the important thing was that we were together.
I looked forward to those trips every year, and now that two of my sisters have moved far enough away that the mother daughter mini-vacations are no longer possible, we always reminisce about them every time November rolls around.
Now that I have a daughter of my own, I have an even deeper understanding of just how special those mother daughter trips were.
Whether you're two or 82, sometimes you just need some girl time. Below are a list of 24 ideas for fun mother daughter trips you can take together. I've divided them up into Day Trips and Longer Trips for easier browsing. While many of the day trips would work for girls of all ages, many of the longer trips are geared towards older mother/daughter groups.
24 Fun Mother Daughter Trips You'll Want to Take Right Now
I am a participant in the Amazon Services LLC Associates Program, an affiliate advertising program designed to provide a means for me to earn fees by linking to Amazon.com and affiliated sites.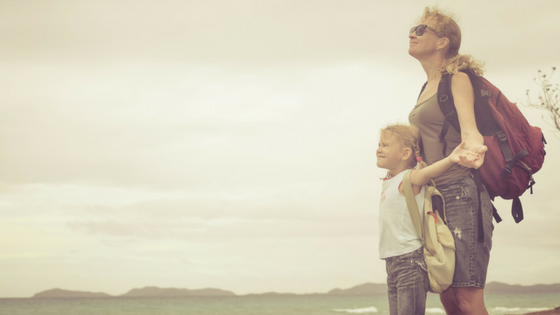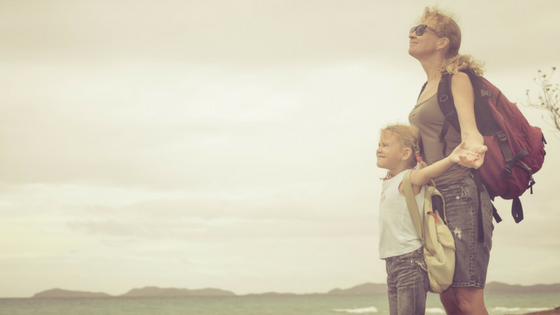 Day Trips
Manicures/Pedicures
Sure this is a little cliche, but even low maintenance women like a little pampering now and then.
A Concert
This could be tricky if you don't share similar musical tastes, but most mother-daughter pairs can find at least one group or genre they can agree on. Or you can take one for the team and attend a concert that you don't necessarily enjoy but you know your daughter loves.
A Show
If your daughter is young, this could be any number of shows created specifically for kids (think along the lines of Disney on Ice, a circus, or a play adapted from a beloved children's book).
If your daughter is older check your local theater or event center for upcoming events you both would enjoy.
The Zoo
Who doesn't love visiting exotic animals that you rarely get to see?
A Sporting Event
Whether you opt to catch your favorite 'big league' team, the nearest college game, or a local middle school tournament, cheering on a team together can be a fun bonding experience.
A Tea Party
For the daughters who enjoy activities that lean towards the girly side, tea parties are sure to be a hit. Either plan your own at home or make a reservation at a fancy restaurant that has Tea Time.
A Picnic
Whether on your own front lawn or at your favorite secret getaway, a picnic is a fun way to spend an afternoon together.
The Playground
Every kid loves the playground. Visit your favorite one or make a list of all the playgrounds nearby and try to visit each one on the list.
Get Tattoos
Are you and your daughter a daring duo? Go get tattoos together! Whether you get a matching pair or not, every time you look at them, you'll be reminded of each other.
Not quite that daring? Try a henna tattoo (they typically last anywhere from a week to a month) or give each other fake ones.
Hiking
Everyone needs to get out in nature every once in a while. Whether you do a simple walking trail or something more strenuous, you're sure to enjoy the fresh air.
Shopping
Sometimes you just need a little retail therapy.
Beach
Whether seaside or lakeside, a day at the beach is good for the soul.
Day Trips or Longer, Depending on How You Do It
Deep Sea Fishing
For those who don't want to be landlubbers, head out to the open sea and try to catch the big one! Winner buys dinner.
Surfing
Ride the waves together, then laugh later while you recount all the times you wiped out.
Skiing
Tear up the slopes together, then laugh later while you recount all the times you wiped out.
Road trip
As a child, my parents often enjoyed going for Sunday drives and I always hated it. But once I got older, I began to see the appeal of setting out to explore.
Whether you strike out for the day or for a few months, there's something about hitting the open road that welcomes adventure.
Longer Trips
Disney
It seems that most adults either love or loathe the idea of a Disney vacation, but if you're not totally opposed to the idea, there really is something special about the most magical place on Earth.
Caribbean
If you're the sort who loves to feel warm sand between your toes, a Caribbean vacation might be perfect for you and your daughter.
A Missions Trip
Take your mother daughter trip to a different level by going on a missions trip together. Not only will it change your life, it'll also help better the lives of the people who need it.
Camping
Test your survival skills by pitching a tent and cooking over a campfire for a few days or weeks. Or if that isn't your jam, there's always glamping.
Cruise
If you're looking for something a little more relaxing, board a cruise. You'll get all the comforts of a resort while also seeing a variety of locations.
Grand Canyon
Sometimes we need to see something that takes our breath away. Who better to do that with than with the person who took your breath away the moment you laid eyes on her?
Other US Landmarks
If the Grand Canyon is too far or you've already seen it, there are amazing US landmarks all over the country. Choose one from this list that's closer by.
Europe
If you have the time and resources, this would make a great post-graduation trip. Trek across Europe and make lifelong memories before your daughter leaves for college or enters the workforce.
The form you have selected does not exist.
Now that you have a bunch of ideas for fun mother daughter trips, I urge you to choose one and make a plan to do it as soon as possible. It's so easy to let life get in the way, and before you know it, years have gone by.
Which reminds me, I need to get on the phone and start making plans with my mom and sisters for another Girls' weekend. Maybe this time we can make it three generations and bring our own daughters along.